Het uitgangspunt is het volgende:
Een SPA bad dat je ~ 40 °C warm wil houden met een electrische pomp die het water opwarmt. Een SPA bad is niet heel duur.
Zonnepanelen die (veel) meer dan voldoende energie leveren voor je huishouden. Dit is duur, maar je hebt dit voor ook andere reden.
Een thuisbatterij. Dit is duur, maar je hebt dit voor ook andere reden.
Véél isolatie voor je bad (gelukkig niet duur)
Teruggeven aan het net brengt maar weinig op en je kan niet terugdraaien met een oude meter (je hebt dus al zo'n digitale meter)

Dus we kunnen de energie maar beter zelf gebruiken
Allereerst moet je je SPA bad zoveel mogelijk isoleren. Kies ook een SPA bad met donkere kleuren. Zodat wanneer de zon schijnt, zoveel mogelijk warmte opgenomen wordt.
De bodem moet geïsoleerd zijn door bv. puzzelmatten onder je bad te leggen en eventueel ook andere isolatiematerialen. Het dun laagje isolatiemateriaal dat bij de goedkope SPA badjes zit is niet genoeg.
Je hebt bv. isolatiematten die onder parketvloeren gebruikt worden. Je kan niet teveel isoleren. Meer is altijd beter. De matten zullen het bad ook een zachtere bodem geven. Zonder de matten zal je zo'n 10% verliezen aan het opwarmen van de grond.
Je wil zeker ook een energiebesparende cover voor je SPA bad. Zonder die cover zal je zo'n 30% verliezen aan het opwarmen van de lucht. Zet je je bad binnen, dan heb je meteen een stevige electrische verwarming voor die kamer.
Het initieel vullen van je bad doe je best met warm water uit de kraan. Tenzij je dat water toch electrisch opwarmt natuurlijk. Dan maakt het weinig uit of je de pomp van het bad het laat doen of niet. 
Anders is de totale energie die daarvoor nodig is vrijwel niet of nooit haalbaar met de gehele dagopbrengst van je zonnepanelen. Denk eraan dat het water opwarmen een constant vermogen van 2 a 3 kW vraagt en dat je op die manier ongeveer één graad opwarmt per uur wanneer het bad vol is.
Dus een 8tal uren zon op je zonnepanelen warmt je bad ongeveer 8 °C op, misschien 10 °C. Misschien een beetje meer wanneer alles heel erg goed geïsoleerd is of wanneer je bad binnen staat? M.a.w. heb je dan meerdere dagen nodig of zal je s'nachts moeten doorverwarmen en zal je thuisbatterij niet opgeladen zijn. Dus koop je dan electriciteit van het net. Dat willen we niet.
De startup kostprijs is dus een volledig bad met warm water. Dat is niet weinig, dus je wil dat vermijden. Daarom ook moet je je filters goed proper houden (minimaal iedere drie dagen). Je gebruikt ook best chloortabletten en zorg ervoor dat de pH op 7,6 blijft. Je wil niet in vuil water zitten, toch?
De bedoeling is dat je het bad als een batterij bekijkt. Fysica vertelt ons dat het opgewarmde water ook net zo traag afkoelt als dat het opwarmt. Water houdt warmte goed vast. Daarom dus dat we zoveel aandacht schenken aan het isoleren van het bad. Zo wordt het een batterij.
Je wil waarschijnlijk rond 9 a 10 uur s'avonds je bad in. Tegen dan moet het dus 40 °C zijn. Het is een SPA. Dat moet goed warm zijn he.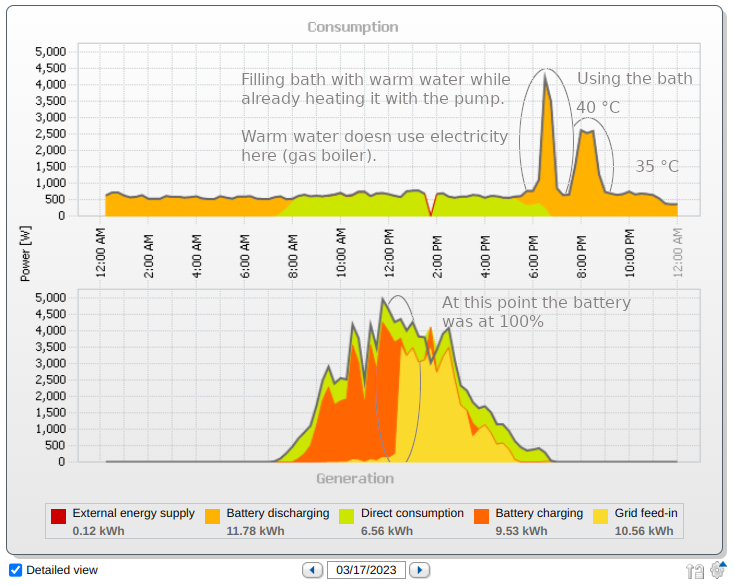 Je wil het bad niet helemaal terug naar de omgevingstemperatuur laten vallen (tenzij het zomer en 40 °C is, maar dan wil je waarschijnlijk net kouder water). Dus heb je s'nachts je thuisbatterij nodig. Je houdt het bad na je gebruik s'avonds op ongeveer 35 °C. Door de isolatie zal je bad nu van ongeveer 40 °C terugvallen naar 35 °C rond 6 uur s'morgens. Dit hangt natuurlijk ook van de omgevingstemperatuur s'nachts af. Zonder isolatie is dat al rond 2 a 3 uur s'nachts en zal je thuisbatterij volledig opgebruikt worden.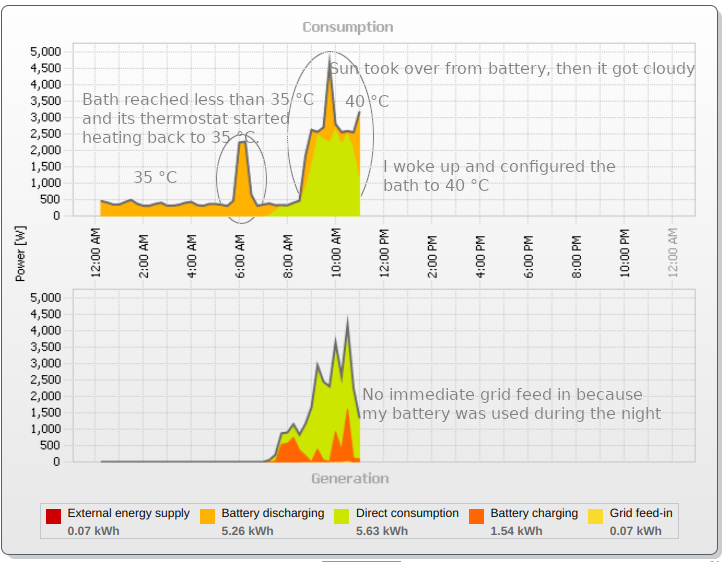 Rond 9 uur s'morgens heb je (soms) terug zon. Dus kan je je zonnepanelen gebruiken om die 5 °C terug te winnen. Je wil ook wat van je thuisbatterij weer kunnen opladen zodat die thuisbatterij je SPA bad op temperatuur houdt gedurende de volgende nacht en s'avonds wanneer je er gebruik van wil maken.
Zonder thuisbatterij is het volgens mij niet mogelijk een SPA bad warm te houden zonder electriciteit van het net aan te kopen.
M.a.w. Gebruik best je wasmachine en droogkast wanneer het regent en de dag ervoor je thuisbatterij volgeladen werd en je in de regen toch geen gebruik van je bad wil maken.
ps. Witte wolken wil zeggen beetje energieopbrengst (nipt genoeg zelfs, hier in maart zo'n 1,5 kW). Donkere wolken is niks. Zonnig is uiteraard veel energieopbrengst (hier in maart soms 4 kW – 6 kW en meer).
ps. Een electrische wagen opladen en zo'n SPA bad warm houden beiden met zonnepanelen? Ik denk dat je dat kan vergeten. Tenzij je een heel groot dak hebt plus nog voetbalveld vol panelen en een thuisbatterij die meer dan een dure luxewagen kost.